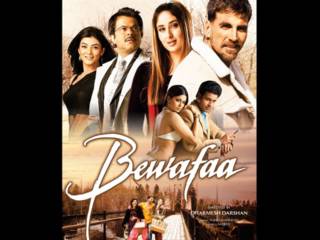 Sushmita Sen, Anil Kapoor, Kareena Kapoor, Akshay Kumar, Shamita Shetty and Manoj Bajpai in Bewafaa

StarCast: Anil Kapoor, Akshay Kumar, Manoj Bajpai, Sushmita Sen, Kareena Kapoor, Shamita Shetty.
Director: Darmesh Darshan
Rating:* *
What a great movie! The best way to spoil your sunday. At times I felt even Shabd was better. Here goes the story, Kabir Bedi (a NRI who lives in Montreal, Canada) and his phirang wife (Nafisa Ali) have two daughters Aarti (Sushmita Sen) and Anjali (Kareena Kapoor). Now Aarti lives in New Delhi and is married to busniess tycoon (Anil Kapoor) for the past 10 years but they have no children. Anjali on the other hand is busy romancing a local upcoming musician Raja (Akshay kumar) in Canada. Aarti comes to Canada to deliver coz she discovers that she's 5 months pregnant. Now her baby sis tells Aarti, about her love story, so Aarti decides to meet Raja just to see if her sister's choice is right. Needless to say, she likes Raja and thinks is best suited for her sis. Aarti tells Raja that she wants to visit all those places where love blossomed between her sis and him (wot a kabab me haddi). And wot a surprise they start singing and dancing together.
All's well until destiny takes its toll. Aarti's sudden demise when she delivers girl twins leaves Anjali in a situation where she has to marry here brother in law. They come back to India, but Anil Kapoor is too busy with his work, too grieved by his wife's loss to spare time for Anjali and his kids. Enter Raja, who by this time is a famous Pop star and comes to India for a concert. he bumps into his first love Anjali and ....... Now Anjali has to make a choice between her hubby and her lover, whom she chooses is what forms the climax of the movie. Also there is Manoj Bajpai (Dil Arora) and his wife Pallavi (Shamita Shetty) who are Anil kapoor's best friends and are the only one's who know his wife's secret.
The music of the film is extremely mediocre. Worst being some crappy Kabootar song picturised on Mr. Bajpai and Ms. Shetty. Speaking of the performances, Kabir Bedi and Nafisa Ali are competent. Manoj Bajpai completely goes over the top, one of his worst performances ever. Shamita Shetty is about ok. Akshay Kumar, irritates big time, will always be a non actor. Check out his pop star look and even worse the costumes, Jesus Christ!!! Elvis Presley would thank his stars that he's long gone, otherwise he would have been intimidated by this third rate clone of his called "Indian Raja".Phew. Anil Kapoor does well, actually its just the experience, but the talented actor defenitely deserves roles better than this. Kareena Kapoor has a meaty role, goes overboard at times (check out some hyperactive expressions before the kaise mai piya se kahoo song) but does well overall.
This could have been a sensitive film , but i think the director Darmesh Darshan directed this movie over the phone.
All i can say is you can do bewafaai to this film and give it a MISS!!!
-Sanketh Rao.