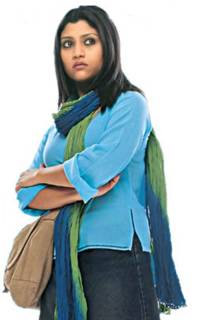 Konkona Sen in Page3

StarCast: Konkona Sen, Tara Sharma, Sandhya Mridul, Bikram Saluja,etc.
Director: Madhur Bhandarkar
Rating:* * * *

Well, this is one of those movies whose occurrence is very rare. It takes a lot of guts and conviction to make a movie like this. One word that would describe this movie is "phenomenal". The director is definitely not a one time wonder, coz now he has Chandni Bar, Satta and this one under his belt and we can forgive him for Aan.
As the title suggests the movie is about the glitz and glamour, the party scene in Mumbai. Actually everyone knows that the things shown in the movie do happen behind the scenes, but we generally have a blind eye for it and convince ourselves that such things don't happen. This movie deals with every facet of life especially around the people who feature in page three articles. There's everything that one can think of casting couch, the plastic smiles, the double standards, bisexuality, child abuse, just about everything.
Its a story about a journalist who reports for page 3, and basically her dealing with her consciousness and her desire to change certain hippocratical values that exist in her profession. But will she succeed, now for that answer, go and see the movie.
The music of the movie is just apt, just perfectly blending with the movie and taking the story forward. "Kitne Ajeeb...." every word in that song is so true with respect to page 3. Even the item number is well placed. As far as the performances go Konkona Sen , Sandya Mridul even Tara Sharma and frankly speaking everyone is first rate. Boman Irani , Atul Kulkarni , Bikram Saluja, and all the others have been casted well.
Full marks for the director for making a film that's just class apart. Impressive. Very Impressive. Absolutely unmissable.
Sanketh Rao.