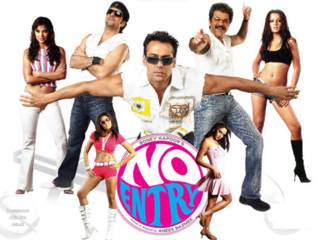 Lara Dutta, Fardeen Khan, Salman Khan, Anil Kapoor, Celina Jetley, Bipasha Basu and Esha Deol in No Entry.

Starring: Anil Kapoor, Salman Khan, Fardeen Khan, Lara Dutta, Bipasha Basu, Esha Deol, Celina Jetley
Director: Aneez Bazmee
Rating: * * 1/2

Is No Entry a take off on Masti? No, not really. How good is it? Its passable, worth a watch. Its about three friends and their silly lives and even more sillier wives. There is nothing much that I can write about the story, but hell yeah I can write about the performances.
No Entry makes a dull start, an interesting mid and an overtly funny second half. If anyone would see the film it would definitely be for its second half. The director, I must appreciate has directed the second half extremely well with all the chaos and confusion woven extremely well.
The music is nothing to speak about, infact to make the film a racy, fast paced comedy all the songs except the title song should be deleted. The background score with the title song tune fits really well. It would have been a really good and memorable comedy caper had the characters been chosen carefully, no one suits the role what he or she has got except Lara and Bipasha.
Here's my advice to each of the lead actors.
Celina Jetley, ok I understand you are improving but behaving hyper and prancing like a cat is not acting and the clothes I shall not comment but they seem to be slipping everywhere, especially in the song "Ishq mein".
Mr Fardeen Khan the doggy faces that you make in the film is not acting, the final verdict is you cannot act.
Esha, what are you doing in this movie? it's not even a lead nor a good guest appearence.
Bipasha, you have performed well and very naturally , but something is drastically wrong with the make up and clothes, its ghastly at times. Keep a check.
Lara, the only saving grace in the movie, keep it up.
Salman Khan, how many times will you jump around the beach in a bikini? Aren't u fed up? WE ARE.
And finally Anil, you are one of the best actors of our country and one of my favorites too, I really find very difficult to write this despite the fact that you have acted well, as always , Uncle please do roles that suit your age. Roles like My Wife's Murder in which you were simply outstanding and which do justice to your age and acting capabilities.
Enter the No Entry zone bindaas, despite all its flaws its still not disappointing.
-Sanketh Rao..