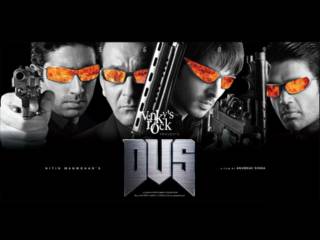 Abhishiek Bachchan, Sanjay Dutt, Zayed Khan and Suniel Shetty in Dus.
Starcast: Sanjay Dutt, Abhishiek Bachchan, Zayed Khan, Suniel Shetty, Shilpa Shetty, Esha Deol, Dia Mirza, Raima Sen
Director: Anubhav Sinha
Rating: * * 1/2
I shall make it simple, U DECIDE
DUS BAHAANE to miss DUS;-
1. The screenplay disappoints, the film starts well, suddenly goes bonkers and then revives back in the end.
2. It's something similar to 16th December.
3. Sanjay Dutt dancing.
4. Gulshan Glover, the original badman, makes a phenomenal entry, but then there is a twist in the tale and his character takes an abrupt ending, totally wasted.
5. What Abhishiek Bachchan does in the climax, the effect would have been same even otherwise, he didn't have to do what he did, you will know what I am saying if see the movie.
6. Esha's hairstyle, its so funny.
7. The emotional crap, that too in scenes where there is 2 minutes left for the bomb to explode.
8. Zayed Khan - Vaada ditto Shabd ditto Dus, I need not say more.
9. Suniel Shetty, I mean, Thanks but no thanks.
10. The girls disappoint bigtime, Dia just has about 1 dialogue, Raima keeps yelling "Dan" (her hubby Sunil Shetty) about 50 times and Esha Deol does a la Dhoom again and Shilpa Shetty does good of whatever is offered to her, but I thought it would be one class action role, but it isn't. The only good stunt that she does is the one shown in the promos.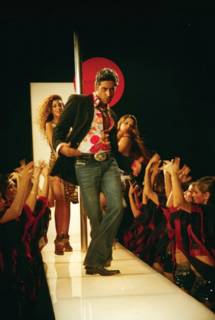 DUS BAHAANE to NOT miss DUS;-
1. If you have nothing better to do, on a Sunday.
2. An attempt in making something different.
3. Good editing.
4. The well co-ordinated action stunts.
5. Pankaj Kapoor
6. The two kaahni me twists are really nice and well presented at the right time, just when it starts to get really boring.
7. The background score and slick cinematography.
8. Sanjay Dutt, not a great performance, but very likeable.
9. Abhishiek Bachchan, the film wouldn't have been what it is without him, he is a superstar in the making. Another good performance and hes let gone his two left feet as well, he can now give all the item girls a run for their money.
10. Deedaar Ve is ok, but Dus Bahaane the title track of the film, simply rocks.
-Sanketh Rao.