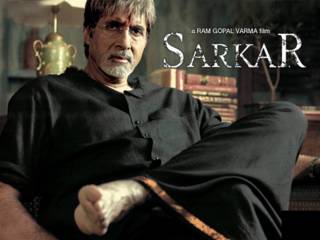 Amitabh Bachchan in Sarkar

Starcast: Amitabh Bachchan, Abhishiek Bachchan, Katrina Kaif, Tanisha
Director: Ram Gopal Varma
Rating: * * * *
I don't know if this is Ram Gopal Varma's best work till date as he claims it to be, but it definitely is one of his best.
Subash Nagare (Amitabh Bachchan) an autocrat catalyst in politics, a la Bal Thackerey ( just the inspiration of the character, that's all) is all powerful and has all the public adulation but has refrained himself from the rat race in politics. Everyone from the chief minister to his cabinet members are the puppets whose strings are in the hands of Subash Nagare alias SARKAR.
He has a suppressed and dutiful wife (Supriya Pathak) and two children Vishnu (Kay Kay Menon) and Shankar (Abhishiek Bachchan). Vishnu is the black sheep of the family, he's a producer in Bollywood, chases his heroines, mouths foul language and has a rift with his father et al. Shankar is the foreign returned obedient son, who is never introduced to the family business but inevitably goes on to be a part of it.
What is this family business? Well it's social service. Subash Nagare is the law, the poor and oppressed come to him with their problems and he sorts them out. Now he doesn't do anything that his conscience doesn't approve him of, so obviously he has many foes. Many of his enemies are his students who have learnt all the tricks of the trade from him.
Every dog has its day and Subash's enemies have found theirs, they kill a leader who badmouths Nagare, so the blame is on him. Even his older son Vishnu is an accomplice of his father's enemies. His son Shankar gets him out of the rut and takes over from the aging Sarkar to become one himself and continues the family legacy.
The cinematography is dark and slick like every other RGV film. The dialogues are exceptional, most of them are "taali bajao" types. The cat calls from the audience says it all. The editing is crisp, the film turning out be just about 2 hours. The background score "Govinda" is superb.
The starcast is impressive, though some added unnecessarily. The supporting cast does a great job. Sarkar's two aides are pretty good. The south Indian gangster is awesome and his dialogues will leave you laughing in splits, his laugh sounds like a snake hissing, really funny. The sadhu is good too. Kay Kay Menon is first rate, gives a very convincing performance. His on screen wife Ruksaar earlier seen in D, is totally lacklustre, I think she has about 10 words (not dialogues) in the whole film. Supriya Pathak shines.
Coming to the main cast, Katrina as Abhishiek's foreign returned girlfriend who dumps him, makes her presence felt in a small role and moreover, she looks gorgeous. Tanisha, his childhood sweetheart is really funny not because she has some funny lines or anything, she's funny coz she's emoting. Hahhaha. But atleast she has an A grade film in her kitty to rave about.
Last but not the least the show stealers, the father and son duo give a mind blowing performance. A father and son jodi like this has never been witnessed in Hindi Cinema ever before. They just rock together, their chemistry is awesome! I hope we see more of them together. Sr. Bachchan can add another splendid performance to his list. He completely gets into the character, doesn't have many dialogues but his eyes say it all. The first half belongs to him.
Jr. is as brilliant if not better, the second half belongs to him. His eyes have a fierce intensity that can give anyone cold feet. He is so comfortable in what he's doing that it just reflects on screen.
He truly deserves to be Aby's baby. Bravo.
How can anyone miss this totally "Paisa vasool" film?
-Sanketh Rao.