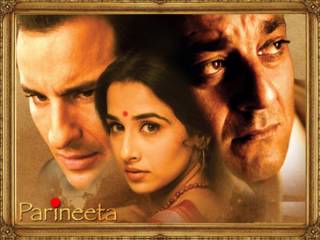 Saif Ali Khan, Vidya Balan, Sanjay Dutt in Parineeta
Starcast: Sanjay Dutt, Saif Ali Khan and Vidya Balan.
Director: Pradeep Sarkar
Rating: * * * *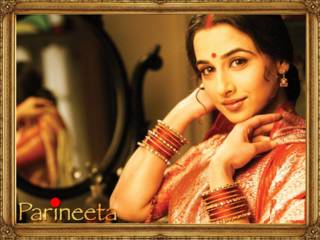 I must confess, I might be partial as I write this review, coz a pretty girl Vidya, who lives opposite my house in Mumbai signed this film called "Parineeta" (The married woman). This is the film that I have been waiting for almost 1.5 years now and here it is.
1962 Calcutta, a love story that will sweep you off your feet, the story goes like this, two families who are neighbours, 1 affluent family that of Shekar (Saif Ali Khan), who has a loving and suppressed mother and a father who will put Hitler to shame. The other family being that of Koel (Raima Sen) and her not so rich, loving parents. At a very early age Lollita's (Vidya Balan) parents die in a car accident and she finds home at her uncle's house who happens to be Koel's father. So the three kids Shekar, Lollita and Koel grow up together.
Lollita wants a toy but she doesn't have the money, when Shekar finds this out her drags her to his cupboard and tells her she could have as much as she wants and she doesn't even need to ask him. They grow up and their chilhood romance turns into an unbreakable bond and passionate love of their youth.
Now Lollita's uncle is under debt. He is indebted to none other than Shekar's ruthless father. Shekar's father had lend Lollita's uncle 10,000 rupees and mortgaged the house which has accrued interest and has turned into 1.5 lacs. But what that would mean is, it would be a complete rip off coz the house costs 25 lacs.
Timely entry is made by Girish (Sanjay Dutt) who is another very close family friend's brother who is completely bowled over by Lollita's simplicity and beauty. He helps Lollita and her family to come out of the rut. An event of such things leads to misunderstanding between Lollita and Shekar due to which he is ready to marry his father's choice, an affluent father's daughter (Dia Mirza) and this leads to the most heart warming climax which I cannot reveal.
As far as the technicality of the film is concerned, its par excellence. The cinematography and set design is simple but will leave you spellbound. Actually the script is the medalist, which is an adaptation of Sarth Chandra Chatupadhaya's novel. The songs are beautifully stitched to the film each being absolutely timeless. Be it "Piyu Bole" or "Yeh Hawaye" or "Kaisi Paheli" all of them are just "Wow".Amitabh Bachchan is the Sutradhar (narrator) and Rekha does an item number, now that's a scoop isn't it? Vidhu Vinod Chopra delivers another winner. Sanjay Dutt, Raima Sen and Diya Mirza just deliver what they are expected to. The actor playing Saif's father, is worth a mention you will love to hate him. The conquistador is Saif Ali Khan, he goes a complete image makeover and how.... truly brilliant.
But the show belongs to two debutante's i.e. the director Pradeep Sarkar and newcomer Vidya Balan. The director has translated the novel into the film with such great conviction, the only defect being a scene in the climax where the whole family yells "Tod Shekar Tod", seems a little tooo filmy. But except that 1 scene the film is simply flawless.
And for Vidya, not every newcomer can boast of a debut film like this. She acts as if shes a veteran. Right from the title song till the end, she sparkles in every scene, in every frame. Its her show only hers and after seeing the movie I cannot imagine anyone else but her playing Parineeta. I truly cannot wait to see her again.
Unmissable flick.
-Sanketh Rao.