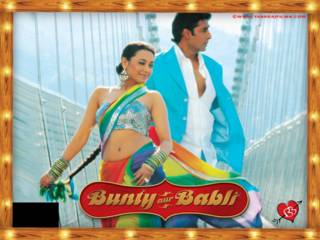 Abhishiek Bachchan and Rani Mukerjee in and as Bunty Aur Babli
Starring: Amitabh Bachchan, Abhishiek Bachchan, Rani Mukerjee
Director: Shaad Ali Sahgal
Rating: * * 1/2
What a disappointment!!! I expected so much out of this movie and from Shaad Ali after Saathiya but what I got was a complete letdown.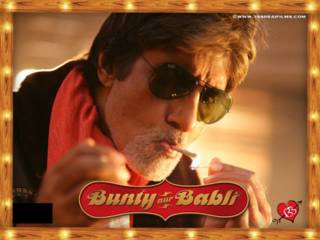 Two small towners Rakesh aka Bunty (Abhishiek Bachchan) and Vimmi aka Babli (Rani Mukerjee) are ardent dreamers, he dreams about being a Tata or a Birla and she dreams of becoming a model. In the desire of fulfilling their fantasies they leave their small towns towards their city. But sooner they realize that life is not as easy as they thought. Destiny brings them together and they find an alternate route to fame i.e. conning people. So the con game begins and the whole nation is going berserk about Bunty and Babli's charlatanry (P.S They help the poor as well.). So eventually their dreams have come true in a different sense, they have an exciting life and also the entire nation knows them by name.
Life's rocking until one day Dasharth Singh (Amitabh Bachchan) is given the job of tracing the swindlers. After the long cat and mice game he finally manages to hitch them but leaves them coz he knows they have changed and will never enroute that ways.
It's a desi version of Catch Me If You Can starring Leonardo Di Caprio and Tom Hanks. Now the highlights of the movie are very few, ofcourse it manages to generate a few laughs but thats about it.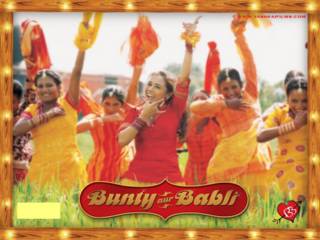 The screenplay is diseased and the editing is patchy. It gets extremely boring in portions and it has a climax that never ends, unnecessarily long. A crisp editing of 45 minutes could cure this film.
The music in the film dosen't live upto the Yasraj banner standards but is not bad either. The problem is that they are there in the wrong place at the wrong time with the exception of the introduction song Dhadak Dhadak" and the background score of "Bunty aur Babli". Another song called "Nach Baliye" is a total misfit and the costumes in this song are the ugliest I have seen in a long time. "Chup Chupke" is really nice but unwanted and finally the Aishwariya Rai number something like a qawwali is an absolute no-no. This should have been a number that should have exploded the screen, coz it's the first time ever the father and son shake their leg together on the silver screen and also have Ash accompanying them, but it's no where close to that.
Well on the starcast front Rameshwari, Raj Babbar as Abhishiek's parents and Kiron Joneja Sippy and Punnet Issar as Rani's parents are apt in their respective miniscule roles. Tania Zaetta the Australian game show host makes her unipmressive debut in this movie, has hardly anything to do.
The film rests on the shoulders of the lead pair and Bachchan Sr. and how much I hate to say this but Amitabh Bachchan disappoints, coz the odinary is unacceptable from him and thats what he delivers. Abhishiek and Rani play their roles to the T, they share an awesome chemistry and look great together. Abhishiek is the next star provided he takes care about the choice of his films and Rani needless to say is the reigning queen bee, but i think its time again to shed a few kilos.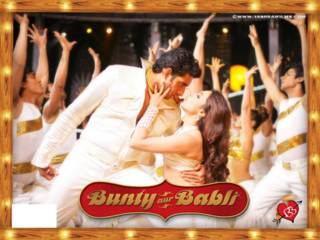 The high point in the film for me is when my friend Kapila Agrawal makes her debut in a cameo and guess what she also gets to abuse Rani Mukerjee (way to go kapi , we r proud of you!)

All said and done the film's title should be changed from "Bunty Aur Babli" to "Boring and Bumpy".

-Sanketh Rao.