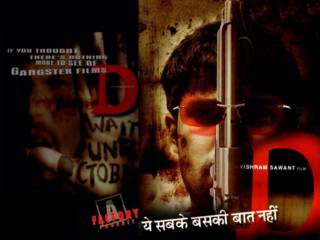 Randeep Hooda in D
Starcast: Randeep Hooda, Isha Koppikar, Ruksaar and Chunkey Pandey
Direction: Vishram Sawant
Rating: * *
Truly a lacklustre fare! I do not know the purpose of making this film, we saw Satya, I think we saw it all. And of course we had Company, but that had many pluses like Ajay Devgan, Vivek Oberoi and most importantly "Khallas".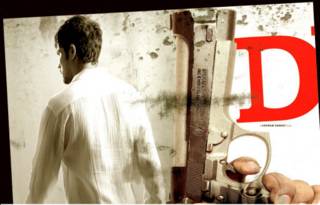 So Deshu, son of a constable gets a chance to become a constable, refuses and goes on to become an underworld don. He joins hands with Hashim (Goga Kapoor) an aging lion and his gang and proves his mettle along with fellow accomplice Chunkey Pandey.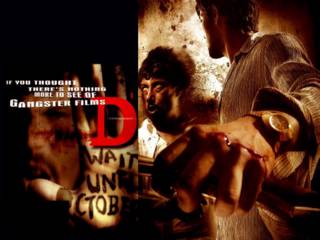 So far so good, now Deshu has some problems with Hashim's sons Sushant Singh and the other guy from Lagaan and the father takes stride in his sons instead of ostracizing them.
This leaves Deshu angry, yet he obeys his boss' order and goes to Gujarat a complete non starter for their business.
He and Chunkey turn this land of dust into a pot of gold and outshine Hashim's sons. Unable to bear the brunt the sons kill Chunkey and his wife (Isha Koppikar, who is a bar dancer turned wife, tell me we haven't seen this before) and our hero takes revenge by killing the sons and leaving the aging lion to die by himself and flees off to some foreign land with actress love (Ruksaar). The End.
The item number featuring Rajpal Yadav which was not supposed to be in the film has been added but frankly speaking is not even worth mentioning. The only other song "Khud Ko Maar Dala" is an ugly twin of "Sapne Me Milti Hai" from Satya.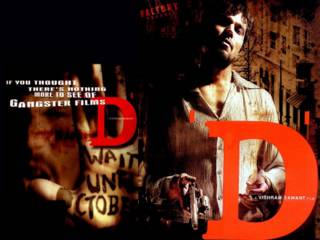 So this two hour gangster flick is just nothing more than I mentioned, any buyers? I doubt. Chunkey Pandey and Isha Koppikar (in her 3 scene 1 song role) are efficient. Ruksaar the Parveen Babi look alike is forgettable. The show belongs to Randeep Hooda (earlier seen in Monsoon wedding), he tries playing the role to perfection. But since his character looks like a complete take off from Company (that of Vivek Oberoi), he shall not get the acclaim he would have otherwise. Period.
-Sanketh Rao.