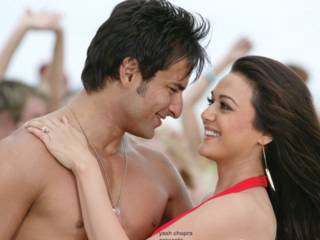 Saif Ali Khan and Priety Zinta in Salaam Namaste
Starring: Saif Ali khan and Priety Zinta
Director: Siddarth Raj Anand
Rating: * * * 1/2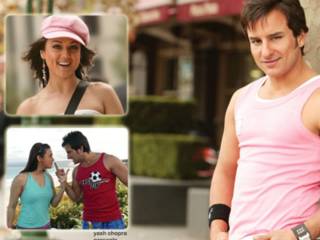 I describe this film as an urbane, cosmopolitan, suave, chic and debonairish film. Another GenX director Siddarth Raj Anand has done a commendable job. This is a breezy, light entertainer that all youngsters would love.
Here's the story. Nikhil Arora aka Nick (Saif Ali Khan) is an architect graduate who has turned into a headchef in Australia in a restraunt Nick of Time. Why chef? coz he loves being a chef, the architect stuff was just to please his dad. Amber (Priety Zinta) is a student studying surgery and is a RJ partime in an Indian Radio station "Salaam Namaste".
So far so good and so different, but then the film goes through some cliche`d stuff and then becomes a copy of Hugh Grant and Robin William starrer "9 Months".
They meet
They fight
They like like each other
Song (Salaam Namaste)
They live in
They like each other even more
Another song (Dil Bole Ummmmmmmmmmm)
They love
She's pregnant
They fight
They split
Sad Song
They miss each other
They try to reconcile
Some more fights
A very irritating song
They patch up
Then ..... you know.....they are back again.......and they live happily ever after.
But the good part is even the cliche`d stuff is so fresh, so its not boring at all. They are some shocking lip locks as well and even though it's a live in relationship, it doesn't look ugly, very aesthetically shot.
The music is a complete let down, very surprising, since it's coming from the Yash Raj camp. But the good part is that there are only 4 songs out of which the first two are quite hummable and hip. Melbourne looks as beautiful as it can get.
Ron (Arshad Warsi) as Nick's best friend and Tania Zaetta as Amber's best friend are first rate. Jugal Hansraj is passable. Javed Jafrey and his wife bring the house down with their silly funny gigs. Abhishiek Bachchan in a special appearance in the climax as a first timer doc has the most undeserved role. Forgotten and excused. Tich.
But obviously the show belongs to none other than Priety and Saif who share a superb chemistry on screen and are nothing but perfect. Priety proves she's here to stay and ofcourse she has never looked so ravishing before. Saif the next king Khan for sure, absolutely brilliant, he his outdoing his best each time with every passing film. For sure he is a lambi race ka ghoda.
So say Salaam Namaste to the slickest and coolest film of the year.
-Sanketh Rao.