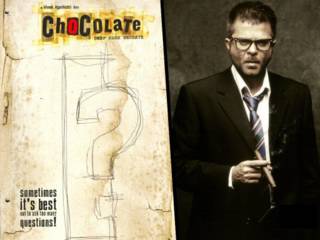 Anil Kapoor in Chocolate
Starring: Anil Kapoor, Suniel Shetty, Irfan Khan, Arshad Warsi, Emran Hashmi, Sushma Reddy and Tanushree Dutta.
Director: Vivek Agnihotri
Rating: * * *
Chocolate, is very edible and even crunchy at times, but let me warn you not every one will like it, probably an average cinegoer cannot associate with it at all. But I give full marks to the debutante director to write a story and make a film of this stature in his very first attempt.

Welcome to the dark, mean streets of London. London as it's never shown before (and definitely not.... as in Yash Raj films), seven characters who are going to blow you of your wits.

Krish Pandit (Anil Kapoor) an egoistical lawyer for whom manipulating facts is like drinking a cup of tea.

Rocker (Suniel Shetty) the head of the rock band, who is madly in love with Sim.

Pipi (Irfan Khan) an artist (painter) cum musician whose slyness will put a fox to shame.

Chip (Arshad Warsi) a computer wiz cum musician with a whacky sense of humour.

Deva (Emran Hashmi) a soulful musician and a sleazy bloke.

Monsoon (Sushma Reddy) a clumsy, yet successful journalist.

Sim (Tanushree Dutta) a sensual hooker and a budding singer.

Pipi and Sim are arrested for a certain blast case and robbery of some billion dollars because of Monsoon's report on the same. On Monsoon's request Krish takes up their case, to breathe them easy out of London. Chip, Deva and Rocker are dead in the port blast.

The pluses in the movie are the performances, the outstanding cinematography, brilliant screenplay, impressive casting, thrilling suspense and an intelligent end.

The minuses would be the slightly loose editing at times, surprisingly too many songs, and above all it gets too confusing for the Indian audience, sometimes you feel, "I dunno wot's happening" and then when its about to end you feel, "I didn't understand a thing" and then boom the climax where everything falls into place, basically it gets frustrating at times.

The songs "Halka Halka" and "Mummy" get a thumbs up but the rest need to be dropped.

Speaking of performances, Arshad and Emran are reduced to mere sidekicks. Suniel Shetty is passable as always. Acting to him is what grapes is to sky, absolutely no connection. Sushma Reddy also debuts in this movie, has a striking screen presence and looks really nice but in terms of the role, its not very well sketched. The film belongs to Anil, Irfan and Tanushree. Anil gets into the skin of the character, goes slightly overboard at times but overall another bravo performance. Irfan Khan too, no one but him could have done that role. Impressive. Last but not the least, the temptress Tanushree is the surprise element in the film. This film being only her second, surprisingly acts like a veteran.

All said and done take a bite, only if you like this particular flavour (dark, deep, over the egde, thrlling) of Chocolate.

-Sanketh Rao.