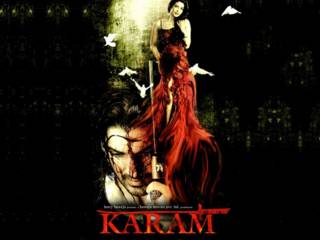 John Abraham n Priyanka Chopra in Karam

StarCast: John Abraham, Priyanka Chopra
Director: Sanjay F Gupta
Rating: * * 1/2
This one is a very stylish flick, but the problem here is that it is all gloss and no substance. John (John Abraham) is a contract killer a la Antonio Banderas straight out of Assassin and Desperado. Shalini (Priyanka Chopra) is his wife who for some reason is obsessed with a beach house, white curtains and wodden flooring. Phew!! Even in the climax, when he's dying in her arms, she reminds him of her materialistic urges, its kinda funny.
So when John is on one of his usual killing spree, he happens to kill a child by mistake, he is in a pool of melancholiness where his guilty conscience doesnt let him live peacefully. When he confesses this to his wife, she tells him to quit his job which she always vouched for. But his boss (Bharat Dabolkar) gives him one final hit list comprising of five people, after which he can break free but without which he would be gifted his wife's body parts since she's abducted by his boss.
Now in this cat and mice race there is also a cop (Shiny Ahuja) whose trying to track these hatchet jobbers.
The music in the film has no scope, only Tinka Tinka stands out. As far as the direction goes there are a few blemishes and the narrative gets boring at times. But some scenes are crafted expertly. Cinematography is brilliant. Bharat Dabolkar is just about bearable. Shiny Ahuja shines. The lead pair just proves that models can act. Priyanka Chopra just filts the bill, now this lass is sure to rock . The brawny actor delivers the goods. He's just the rite guy for the role, just perfect.
All said and done maybe this flick is just worth a look, now whether you get to see it or no depends upon your Karam.
Sanketh Rao.