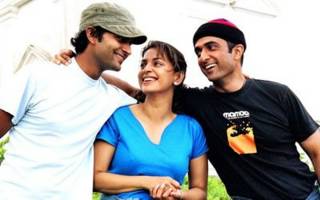 Purab Kohli, Juhi Chawla n Sanjay Suri in My Brother Nikhil.

StarCast: Juhi Chawla, Sanjay Suri, Purab Kohli
Director: Onir
Rating: * * *
A very impressive debut by the director, but this kind of cinema would not appeal to everyone. It touches your heart and all that, also discusses a very important social cause of AIDS awareness, etc but still this is no entertaining fare. The film's pace is too slow and one needs to be really patient to be on par with the film.
The film is a narrative by all the people in Nikhil's life like his sister Anu (Juhi Chawla), mother (Lillette Dubey), father (Victor Banerjee), friend and "more" (Purab Kohli), etc. Nikhil (Sanjay Suri) is a young boy , full of life, state swimming champion basically a son or a brother everyone would dream of.
Life is on a roll for Nikhil until HIV happens. The repercussions of this unwanted disease changes his life forever. The shocking and strange part is when Nikhil's parents abandon him. His father who once coached him, loved him more than his daughter and mother whose cornucopia of love showered on him are not a part of his anguished and miserable life, a time when he needs them the most. His hope of survival comes in the form of his sister Anamika who, along with her fiance` Sam (Gautam Kapoor) and a lawyer Anjali (Shweta Kawaatra) fights effortlessly for the cause of her little brother and is eventually a winner.
What keeps you on your chair are the performances, which are very well extracted. Seasoned actors Victor and Lillette essay their roles absolutely brilliantly. Gautam Kapoor, Purab Kohli and Shweta Kawaatra are effective. Shyan Munshi (as Nikhil's swimming rival) , Peeya Rai Chaoudry (as Shyan's girlfriend) and Deepanita Sharma (as Nikhil's so called girlfriend) have miniscule roles and nothing much to do.
The show stealers are undoubtedly Sanjay Suri and Juhi Chawla. Both of them give an absolutely knock out performance. Talk about being married, aging and still finding good roles and giving a phenomenal performance, well guys thats Juhi Chawla for you. Simply Awesome.