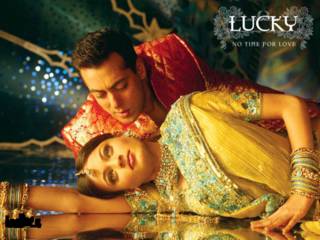 Salman Khan n Sneha Ulal in Lucky

StarCast: Salman Khan, Sneha Ulal, Mithun Chakrabarty
Direction: Radhika Rao and Vinay Sapru
Rating: * * 1/2
Well, well, well, i thought the draught in Bollywood would be over with Lucky, but NOOOO , will have to wait some more to quench our thirst. The movie is set against the romantic backdrop of St. Petersburg, which is a tale of love that brings together two people who would probably have never met if not for the twist of destiny. Lucky (Sneha Ullal) is the quintessential dreamer, beautiful, calm and petite. One morning Lucky's riding to school and calling on all her guardian angels to grant her a miracle - a teeny weenie, itsy bitsy one - "Please GOD I wish from the bottom of my heart that school is shut today." But what she is granted is sure that she had not wished for. She gets marooned with Aditya Shekri (Salman Khan) in graveyards, palaces, etc in the need to reach home safely, as they are struck in an event of terrorist activities and obviously what follows is their inseperable love for each other.
Both their fathers work at the Indian embassy, so when they find out that their children are missing , they hire a sleuth PD (Mithun Chakraborty) who helps them out. Now this strange guy PD is rather irritating, has a fetish for Bollywood flicks and churns out quotes from famous Bollywood films and goes like this "Kisi Mahaan Aadmi Ne Kaha Tha....." and most of the times these "mahaan" men are either Rajesh Khanna or ShahRukh Khan.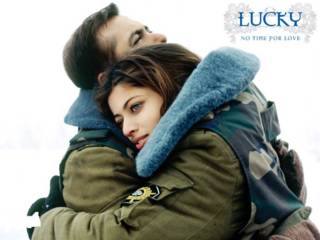 Slowly and steadily the film reaches its end which is anything but rocking, the directors just mess up the climax bigtime. The only saving grace in the film is it's music by Adnan Sami. Be it the zingy "Lucky Lips" by Asha Bhosale or the meloudious "Sun Zara" and "Jaan Meri" by sonu Nigam or the slow track by Asha and Adnan himself, all being simply first rate. The cinematography is brilliant, Russia couldnt have looked better.
Salman Khan is Salman Khan, neither delivers an award winning performance nor a crassy one, just as average as ever. Mithun Chakraborty just goes completely over the top. And the sensational debutante, Sneha is like a fresh breeze of air, she's very sweet and above all she looks like the character she potrays, an innocent school girl. But that's all that can be said about her.
Overall muah felt rather unlucky, maybe coz I was expecting too much out of "Lucky".
-Sanketh Rao.