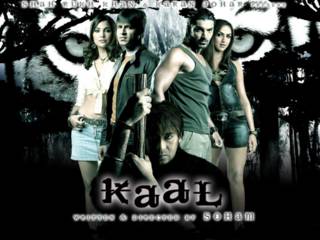 Lara Dutta, Vivek Oberoi, Ajay Devgan, John
Abraham and Esha Deol in Kaal
Starring: Ajay Devgan, Vivek Oberoi, John Abraham, Lara Dutta and Esha Deol
Director: Soham
Rating: * * * 1/2
If Bhoot scared you, this one will kill. Another talented boy Soham Shah added to the breed of Gen X directors. He is greatly influenced by his mentors Ram Gopal Varma and Karan Johar and gives us a product which is the best of both world's, it has the chills and thrills of Varma productions and the gloss of Dharma productions.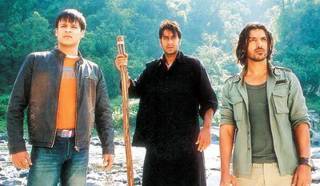 Two researchers, Krish (John Abraham) and wifey Ria (Esha Deol) are out on an expedition to find out the mystery about the unnatural deaths of people in the Orbit jungle by the wild cats. Also on a joy ride are four friends Dev (Vivek Oberoi), Ishika (Lara Dutta), Sajid (Kushal Punjabi) and Vishal (Vishal Malhotra). Their cars collide and they meet and they move on together as their destination is common.
The picnic turns into panic when Sajid is killed and all these guys wanna do, is get out of this jungle, and to help them out enters Kali Pratap Singh (Ajay Devgan), the jungle mougli. Remember Ajay's grand entry in his debut film Phool Aur Kaante or the stylish one in Hum Dil De Chuke Sanam, this is another phenomenonal one with 3 tigers.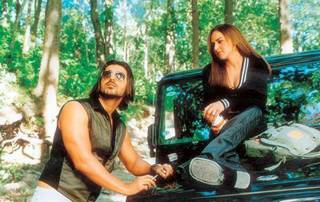 That's all I can reveal about the story. Some of the scenes are shot so brilliantly, looks as if it is coming from a very experienced director. For example Sajid's death scene or Vishal's death scene, Ajay's entry, Lara's dream and Esha's well scene, just first rate. But what makes all these scenes extremely bloodcurdling is the back ground score by Salim-Sulimaan, the best ever after Gupt or Bhoot.
Each one gives a convincing performance, but the girls dont have much to do besides screaming and vociferating in dismay. Vivek as the arrogant dude fits the role to the T. John delivers another winner, another feather in his cap. Ajay Devgan as likeable as ever, a legend in the making and above all are the extremely hunky dory tigers, they are so adorable.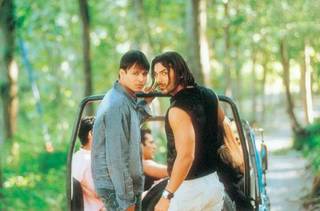 Also the two songs, one title song by ShahRukh Khan and Malaika Arora and the second one Tauba Tauba at the end with the 4 lead actors draws a lot of whistles. All said and done, Kaal is definitely a winner and the young director needs an applause for his grotesque and chic style of filmmaking.
A must watch, especially for lovers of the thriller genre.
-Sanketh Rao.