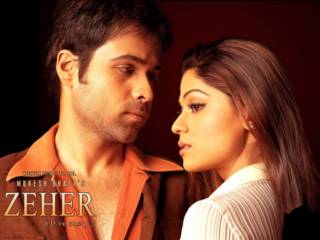 Emran Hashmi n Shamita Shetty in Zeher

StarCast: Emran Hashmi, Shamita Shetty, Udita Goswami, Samir Kochhar.
Director: Mohit Suri
Rating: * * 1/2
Well, this is generation next with a whole new breed of actors and directors and each one is trying to offer something different. Zeher also is an attempt in the same direction. The first half of the film is sleaze and more sleaze and the second part turns out to be a whodunit. All said and done, agreed it's an attempt to do something different but, everything that is different is not necessarily great, and this is the feeling one can sense after watching Zeher. Also the name of the film is a misnomer. It could have been called "Sleaze with Ease" or probably "Murder II".
Siddarth (Emran Hashmi) is the chief cop in a Goa police station and Sonia (Shamita Shetty) plays his wife cum colleague and are having a troubled time as far as their marriage is concerned. During this interim, Siddarth comes across another couple, Sean (Samir Kocchar) and Anna (Udita Goswami) who r in a bad marriage too. Sean is a wife-beater. Siddarth sympathises with Anna and slowly gets attracted to her and they have a fling. The story moves on and one fine day Anna and Sean are found murdered. So who-dun-it forms the latter half of the story and this part of the movie is what makes it worth watching.
Will history repeat itself and churn out a hit like murder, is what we have to wait and watch. There is no scope for music at all, still one ends up humming "Woh Lamhe, Woh Baatein". Speaking of a debutante directorial effort, Mohit Suri definitely leaves a mark, not a bad start at all.
There are a few surprises on the acting front. Samir Kocchar plays his role impressively. Udita as a secductress has her tantalizing charms at her best, but still there is something missing. Emaran, well mate time to change before being labelled as a typecast. The super surprise somes from Ms. Shetty, she has a key role and she has really put in a lot of hard work, finally we know she can act. Hopefully now she will move on from item numbers and playing insubstantial second fiddle roles to something worthwhile.
Only die hard fans of the thriller genre or fans of the leading actors (which i am sure is as difficult as finding water in a desert) may like this one.
-Sanketh Rao.