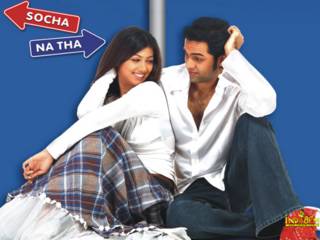 Ayesha Takia n Abhay Deol in Socha Na Tha

StarCast: Abhay Deol, Ayesha Takia
Direction: Imtiaz Ali
Rating: * * 1/2
Quite bearable. This one is urbane, suave, chic, a sweet modern day love story. Viren Oberoi (Abhay Deol) is from an affluent joint family, is all of 24 and has nothing to worry about. Aditi Sahani (Ayesha Takia) is a simple happy girl who lives with her aunt and family, who brought her up after her parents death. Now Viren's family wants him to get married, so they arrange Viren and Aditi to meet. So wot's the problem? Well, Viren has a girlfriend Karen and wants to get married to her. So when Viren n Aditi meet they decide to decline the arranged marriage proposal.
But we can take a guess, Viren over the course of time falls for Aditi, but at this stage the parents have accepted Karen coz thats what Viren always wanted and there is a family feud goin on between the Oberoi's n Sahani's, since the arranged marriage thing didn't work out. So there is a lot of confusion till the climax and the climax is even more confusing.
The cast is fresh, the situations are different, the dialogues are funny but the climax is slightly disappointing but still, its worth a watch.
Everyone from Suresh Oberoi, Rati Agnihotri to Raj Zutshi to the girl who plays Karen play their parts convincingly. Only Sandhya Mridul is totally wasted. We dont expect this from her, especially after something like Page 3. And as far as the lead pair is concerned, both of them have their own style, they are natural and nice to watch. Abhay Deol definitely needs some finishing touch to match his brwany brothers. Ayesha is simply a delight to watch. She's as cute as a chinese doll.
Bored on a sunday, u know wot to do.........go for it!!
-Sanketh Rao.